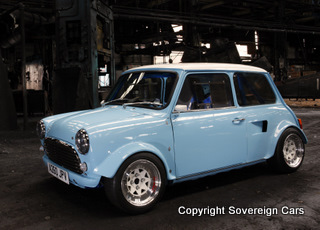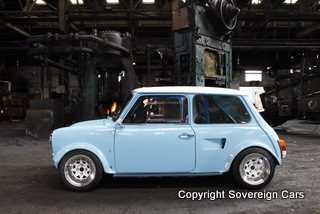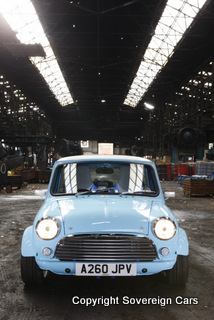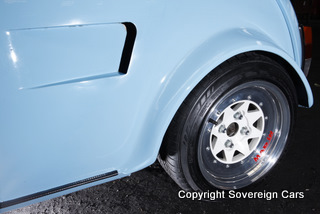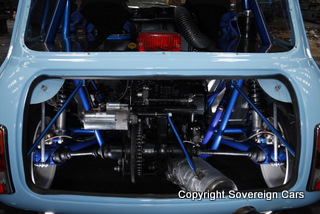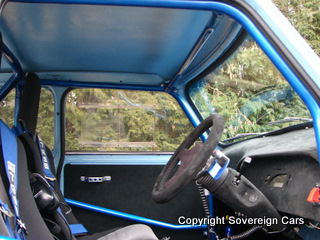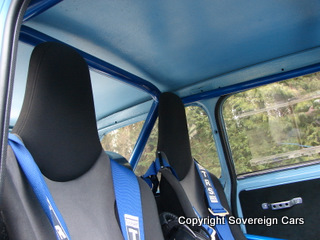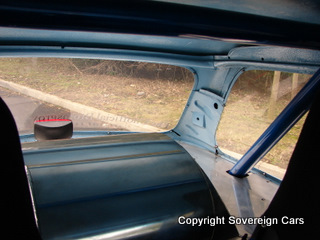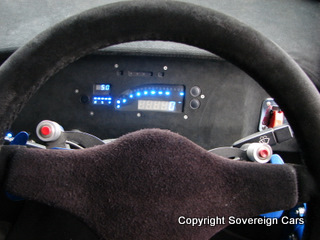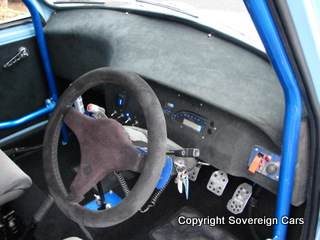 Z-CARS MINI, R1 POWER, SEQUENTIAL PADDLE SHIFT. - BASED ON 1984 MINI CITY

Z-Cars are without question the most sought after Austin Mini conversion on the market today. Taking a bare classic Mini shell, a precisely engineering tubular roll cage is installed to form a safety cell. The front sub frame is replaced by a bespoke space frame with rose jointed suspension, in board coil over shock absorbers, upgraded cooling system and polished aluminum fuel cell. At the rear, a replacement tubular frame cradles the engine with the most sought after variants being motorcycle derived. While retaining the classic Mini looks, the underpinnings deliver sensational handling and absolutely ballistic performance. These cars are insane.

The example on sale here is well known and respected within Z-Cars circles having its no-expense spared build depicted in detail on the Internet. Once completed it attracted national magazine coverage and many of the pictures here are those used in the MiniWorld feature. Built to the highest standards possible this 1984 Mini is a sight to behold. At first glance it looks like a 1,000cc City finished in powder blue with a few body mods, but look closer and she is a wolf in sheep's clothing. Sitting behind the driver is a tuned Yamaha R1 engine producing an estimated 160bhp at the rear wheels. Weighing only 575kgs, that equates to a power to weight ratio of almost 300bhp per tonne! That's the same as a Porsche 911 GT3 or Ferrari 612 Scagliette F1. This is a serious vehicle for fast road or track use.

The specification is as follows: Fully stripped and professionally sprayed tub from a 1984 Mini City. Z-Cars electric blue integral roll cage with matching front and rear replacement sub frame units with adjustable coil over suspension. Modified R1 engine with sequential gearbox utlising steering wheel paddle shift. Electronic launch control. Electric reverse. Extremely rare 13 inch Mad-In alloy wheels with super soft Continental rubber. Removable fiberglass nose section. Flared wheel arches. Side entry air ducts. Fully trimmed Alcontara dash and door cards with EVO digital dash board. Racing seats with side mounting for ultimate strength. TRS FIA approved three inch racing harnesses. Headphones with driver, co-driver intercom. Aluminium rear bulkhead. Alloy pedals. Perspex side windows. Push button start with doomsday ignition switch. Brake bias adjust. Three spoke racing steering wheel. White Race Tec door mirrors. Clear indicator lenses, the list just goes on and on.

Sit in this Mini and you know it means business, and that's even before you start the R1 power plant inches behind your head! Complete with literally dozens of receipts, spare keys, old MOTs and a CD of the magazine photo shoot. Impeccable build quality utilizing the best components possible, combined with ballistic performance. Only for the brave, but what a car! Hitting 11,000 rpm plus as you up-shift puts a rather large grin on your face.

£14,995

For more details please contact us.